Announcements
If you're new to this blog, then read our guides to the basics: Skin (Part I), Skin (Part II), The Supernatural, Color Theory I, Color Theory II, Eyes, and Brushes.

Also, check out the blogsale.
Contents
· Beauty Notes: PSA

· Beauty Notes: McArthur Natural Products

· Culture Notes: In Which Things Are Eaten That Are Not Normally Eaten

· Perfume Notes: Chanel Bois Des Îles

· Beauty Notes: Pinch Your Cheeks

· The Makeup Artist: François Nars

· Desert Island: My Ideal Bookshelf (Li Wen)

· Culture Notes: Sourcream Chocolate Chip & Walnut Coffeecake

· Beauty Notes: Wind Chill

· Beauty Notes: Squeaky Clean

· Perfume Notes: Frédéric Malle Une Fleur de Cassie

· Culture Notes: Computer Love

· Beauty Notes: Lipstick Page

· Beauty Notes: Shutter Speed

· Fashion Notes: Native Textiles

Favored

Art Tattler
the glamourai
The Non-Blonde
Perfume Shrine
Lisa Eldridge
Garance Doré
Smitten Kitchen
Into The Gloss
Grain de Musc
Lacquerized
Res Pulchrae
Drivel About Frivol
The Selfish Seamstress
Killer Colours
Bois de Jasmin
Glossed In Translation
Jak and Jil
Toto Kaelo
Worship at the House of Blues
I Smell Therefore I Am
Food Wishes
The Natural Haven
Messy Wands
1000 Fragrances
Moving Image Source
Wondegondigo
The Emperor's Old Clothes
M. Guerlain
Colin's Beauty Pages
Barney's jewelry department
Parfümrien
loodie loodie loodie
The Straight Dope
Sea of Shoes
London Makeup Girl
Sakecat's Scent Project
Asian Models
Ratzilla Cosme
Smart Skincare
Illustrated Obscurity
A.V. Club
Tom & Lorenzo: Mad Style
Eiderdown Press
Beauty and the Bullshit
La Garçonne
Flame Warriors
Everyday Beauty
Fashion Gone Rogue
Now Smell This
Dempeaux
Fashionista
The Cut
A Fevered Dictation
Nathan Branch
101 Cookbooks
Beauty Notes: PSA
by Li Wen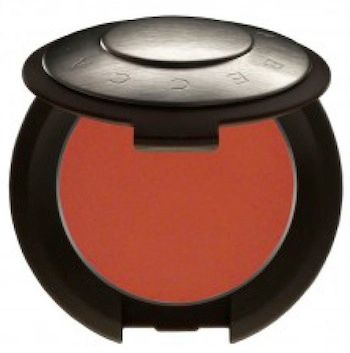 News confirmed just last week at the Becca counter in David Jones Pitts Street: Becca's award-winning Creme Blush and Lip & Cheek Creme are being discontinued.

Done. Finito. Au revoir.

The Becca rep I spoke to said that they have been phased out and replaced by the Beach Tints. This is a completely incomprehensible move to me, because Becca's cream blushes are one of the best of its kind, with many devotees in Australia and overseas; but even more because, as much as the Beach Tints are a unique and signature product for Becca, they do not perform in any way similarly to the cream blushes. When I use up my pans of Amaryllis and Tuberose, I'm going to be looking around for a cream blush from some other brand to take its place, not a Beach Tint. (Indeed, the day after I learned of the discontinuation, I went online and ordered two Kevyn Aucoin Creamy Glow blushes to try out.)

Alas, it doesn't look like we the customers are going to have any say in this decision, so all that remains to do is: stock-up. If you have an HG shade that you can't do without, I recommend you check the Becca online store, where the Creme Blush and Lip & Cheek Creme are all now 50% off (although some shades are already sold out). If you don't want to pay for international shipping, try a local online retailer. Just remember: when they're gone, they're gone.

Labels: beauty notes, becca
7/22/2013 [5]
Beauty Notes: McArthur Natural Products
by Li Wen
How much we choose to spend on skincare is a very personal thing, as generally are the condition of the skin, irritations, environmental and dietary factors, and - let's be honest - subjective willingness to believe that a product is making a noticeable difference. The more overtly luxurious a skincare brand is, the less likely I am to mention it on the blog, lest I contribute to the hype that surrounds it with opinions that, by dint of the products' extravagance, must be taken with no small amount of reservation. In other words, above a certain price range, you are buying less and less a dermatological result, and more and more an image and a dream.

Some products - Helena Rubenstein Prodigy Powercell Youth Grafter, for instance - I might cautiously warn against after a bad personal experience, for reasons of sensitivity. But to go so far as a recommendation, a product has to do more than impress - it really has to knock my socks off.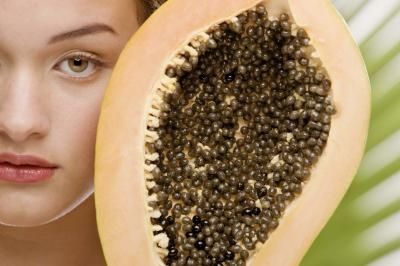 McArthur Natural Products is a range of natural skincare made in Australia. All their products contain pawpaw (papaya) extract, an ingredient known for its excellent exfoliating properties, effectiveness in stabilising oily skin, and high amounts of vitamins A, C, E, antioxidants and enzymes. In fact, the concentrations of pawpaw in McArthur Natural Products are higher than I've seen in any other brands. To make a comparison, the popular Lucas' Papaw Ointment contains only 3.9% fresh fermented papaya fruit, whereas McArthur products will be 25% (Hydrating Facial Cream), 30% (Scalp Care Shampoo), or 60% (Complete Skincare Cream) pawpaw extract.

Pawpaw extract itself is fantastic for treating wounds, sores, extremely dry or rough skin, and skin infections. From the customer testimonials on the website, the McArthur range appears to be popular among Australians living in dry/harsh environments, who suffer from skin conditions or sensitive skin, or who want a gentle product that can be used on small children.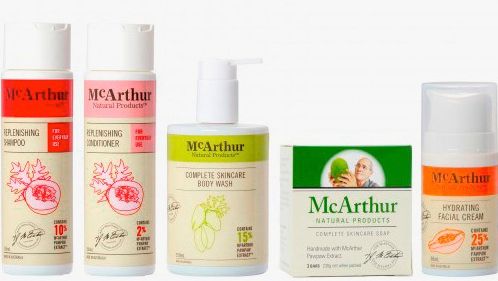 The only product from the range I've tried, the McArthur Hydrating Facial Cream, contains 25% pawpaw extract (Carica papaya). It is a light, unscented cream that comes in an opaque pump bottle to prevent contamination and exposure to sunlight. I apply it to my face and neck last thing at night, an even layer over serum and facial oil. The texture is unlike a normal cream: instead of sinking into the epidermis, it will quickly settle and form a film over the skin, similar to a gel. I will only apply the cream in the mornings if I am staying home, because for the next couple of hours, the film it creates will cause pilling if you apply anything (like foundation) over it.


Ingredients: Aqua (Water), Carica papaya, Prunus amygdalus dulcis (Sweet Almond) Oil, Cetearyl Alcohol, Coco-Caprylate, Glycerin, Caprylic/Capric Triglyceride, Glyceryl Stearate, GlycerylStearate Citrate, Beeswax (Cera Alba), Gluconolactone, Tocopherol (Vitamin E), Xanthan Gum, StearicAcid, Glyceryl Caprylate, Magnesium Aluminium Silicate, Fragrance (Parfum), Citric Acid, Sodium Citrate, Sodium Benzoate

I have combination/oily skin, which tends to overproduce sebum at the best of times, and will breakout in pimples whenever I eat anything dairy. Achieving clear, unmarked skin for any prolonged period is therefore an ongoing battle for me, and I have experimented with all kinds of active ingredients and products over the years.

I started to use the Hydrating Facial Cream around the same time that I dramatically cut back on my smoking and increased my sleep hours, so when my complexion began to improve after a few weeks, I put it down to a combination of factors. Recently, however, I have noticed a great reduction in the oiliness of my t-zone in the morning. For as long as I can remember, I wake up from a night's sleep with build-up of sebum on my skin, a visible slickness on the nose and forehead that has to be washed thoroughly before I can apply any moisturiser or makeup.

That oiliness? All gone after 4 weeks of using McArthur Hydrating Facial Cream. I also haven't had a bad breakout in weeks, despite having eaten cheese and butter, but any other superficial improvements I've noticed in my skin aside, this dramatic reduction in my skin's sebum production would be sufficient for my glowing praise of this product. It made a difference where nothing else I've tried did. I'm very eager to try the McArthur Scalp Care Shampoo and Conditioner next, to see if pawpaw extract is equally effective at controlling my oily scalp.

McArthur Natural Products are not tested on animals, are made from all natural ingredients, and do not contain parabens, sodium lauryl sulphate or propylene glycol. I highly recommend the range for skin that is oily, sensitive, or damaged.

McArthur products are available at the McArthur online store, Pharmacy Online, and selected pharmacies in Australia.

Labels: beauty notes, mcarthur natural products, pawpaw extract
6/27/2013 [3]
Culture Notes: In Which Things Are Eaten That Are Not Normally Eaten
by Anne


That part at the end, when the chip breaks and the guy just scoops the whole thing up with his fingers... that kills me.



You may have noticed that we at Ars Aromatica are not ones to scoff at obsessive attention to detail. Both perfection and truth to life require it. But perfection I am skeptical of, because it implies a frozen state with room for neither entropy nor growth. What is more marvelous is the imperfection of the familiar, but cast in ever-changing lights to both lift us out of the dreariness of existence and awaken anew in us a love for the humble details that usually escape our notice.

In contrast to the finesse of many animated works today, "Fresh Guacamole" is clumsy, substituting materials for other materials that don't resemble each other at all. And yet the conceit not only works, but breathes, for no matter how gorgeous the execution*, it cannot approach the texture that comes from embracing imperfection—indeed, lovingly recreating it.



~~



*I consider this movie overrated for this exact reason. I do not dislike all CG movies, as I consider Ratatouille the rare film that exhibits both soul and astonishing polish in its execution. You, dear reader, may have different opinions.

Labels: animation, culture notes, PES
3/11/2013 [5]
Perfume Notes: Chanel Bois Des Îles
by Dain

Hans Holbein the Younger, The Ambassadors (1533).


I am very fond of a little maxim, from pioneer computer scientist Jon Postel, known as the Robustness Principle: "Be conservative in what you do, be liberal in what you accept from others." Though Postel's Law still operates within its original context of programming, it's also become a colloquialism for model behavior on the internet.

Not since the printing press has there been such a shock to traditional standards of representation and interpretation. The internet has no mercy. At the same time, it also serves as an outlet for creativity, immense in its freedom. If art is anything, it is representation, a feedback loop defined not by the signifier nor the signified themselves, but by the gap that lies between. This gap is inherent in all mechanisms of artifice: paint and canvas represent how the artist sees, not sight itself, and often the stylistic merit lies in conscious distortions. It's that fine line, as we say, between a nude and pornography. Likewise, we translate laundry-fresh musk as 'clean', unaware that musks originally came from the anal glands of male deer, before cheap synthetics like Galaxolide cemented decades of cultural association. It is utterly arbitrary; still, we revel in it. We are apt to say that a certain kind of woman wears Guerlain Vetiver (1961), while she who wears Vol de Nuit (1933) is in another category altogether. To us, this has greater sense than the physical smell.

Most people leave Bois des Iles (1926) with the impression of a bitter opening that mellows, ever so gracefully, into its famous sandalwood drydown. Thus excised of the floraldehydic heart that pegs it neatly between Coty and Roudnitska, Bois des Iles bears a remarkable resemblance to modern niche perfumery, with its adoration of dissonance, its narrowed focus on fully realized aromaterials. At least, hypothetically. Anyone familiar with Bois des Iles will scoff at such oversimplification. This is a magical elixir, the same warm embrace that compels Odysseus home, no matter the tribulations.


Why, then, does the floraldehydic bouquet, the Chanel 'trademark', fade into the background? After all, florals and aldehydes are the physical (though not spiritual) center of the perfume. Unlike No. 5 (1921), where abstracted florals are the main event, in Bois des Iles they play a supporting role, a deliberate subordination. Naked sandalwood is undoubtedly a glorious thing, but it also presents a challenge: traditionally, it is a base note. Even were it not so scarce, it would be difficult for sandalwood to take proper prominence without turning into raw incense or shaving soap. To circumvent linearity, Beaux enlists a progression of florals, as precisely choreographed as a ballet, to delay the final consummation. Bois des Iles smells like Bois des Iles—the highest possible compliment you can pay a perfume.

From the brittle aldehydes and astringent bergamot, Bois des Iles transitions seamlessly into a fizzy neroli, followed by a lush and heady jasmine, lingering prominently on rose, mindful of the floralcy in the sandalwood to come, then sweetening into ylang ylang, and finally a buttery iris, to segue into the drydown. All throughout, aldehydes dart in and out, each movement fluent and seemingly without effort. Most perfumers would have been well satisfied to conclude there, mechanically finishing on a little musk or amber. For the master behind No. 5, this is merely an intermediary.

Bois des Iles' floraldehydic heart builds suspense, enlarging on the sandalwood without upstaging it, to which task aldehydes are especially suited. If your mind is on other matters, there's nothing more than a vague perception of powdery florals, a faintly metallic softness, until the sandalwood emerges. In this way, Beaux manipulates the classic pyramid, which develops sequentially, in order to honor the drydown. (By contrast, the equally wood-centric but entirely modern Féminité du Bois (1992) is as self-contained as a sphere, more chord than melody.) Few forms in aesthetics are as ancient and powerful as the sequence—indeed, the earliest evidence of written language, dating from Mesopotamia, were lists of grain and livestock*—its very mechanics recreate the passage of time. As one word follows another on the page, in the mind's eye one traces the development of character or the convolutions of plot: the experience of interpretation mirrors the human experience. While perfume may not so forcibly represent reality as literature or painting or art, it does gain greater depth the more structured its design.

Almost as an afterthought, the sandalwood itself, the skillful realizations of its many facets. By the time the iris emerges, the sandalwood has already become apparent. Beaux adds vetiver to bring out the clean, meditative quality, the brittle texture of lignin, with coriander for a slightly medicinal pungency. The famed pain épice accord, honey and mellow spices, is more understated in the extrait, where the rose-like floralcy of sandalwood receives equal emphasis, than the eau de toilette. In the far drydown, Bois des Iles picks up a gentle sweetness from a final whiff of benzoin and amber.

OTHER REVIEWS
Bois de Jasmin
Perfume-Smellin' Things
Haute Parfum
Olfactoria's Travels
What Men Should Smell Like
Now Smell This
The Non-Blonde
Basenotes
Makeupalley
Fragrantica

*There is considerable debate where and when written language first originated, a debate that cannot ever be resolved. Still, there is some popular consensus among archaeologists on Mesopotamia. My thanks to Stella J. for helping with fact-checking.

Labels: chanel, ernst beaux, hans holbein the younger, ingrid bergman, perfume notes
2/24/2013 [2]
Beauty Notes: Pinch Your Cheeks
by Dain
For unmakeup, lipcolors, skincare routine, please read the previous installments of my stash breakdown.



My freeform Anothersoul. Planning to switch to the stronger magnet of Z Palette.


This is still a work in progress. I started expanding my blush collection very late, after a longstanding exclusivity to bright but muted pinks. The only criterion I've established thus far, informed by a lazy bare minimum of blush and lipstick, is the basic job description: to enhance the skin. However, to achieve the desired effect, unless you're blessed with a neutral skintone that swatches true-to-pan, you have to accommodate how your undertones alter pigments.

The process of deconstructing undertones is not exactly intuitive—the proverbial mustering of the blind around an elephant. You might guess at an overall skintone, by working backwards from a handful of reliable favorites, with further experimentation leading you ever closer to intimate knowledge. What confuses the matter further is that most people must address a mix of undertones. It does not necessarily follow, however, that you should narrow your sight on the color deemed an ideal fit. You might favor one undertone over another, with some slight adjustments, and even a clash can be worked to advantage, as a statement. The only 'inferior' shades sit somewhere in between, almost flattering yet vaguely off, which you instinctively blend into oblivion, the same intuition that rejects ill-tailored clothing.

I've managed to pull together a fair prediction for how my own skintone, a peachy blend of pink and yellow, affects pigment. Against the pink undertone, ruddier when I tan, even a hint of brown is apt to turn muddy. The yellow is extremely warm, so that all pigments shift yellower when swatched. Only when I'm ill and drawn can you detect any olive. A sheer mauve I might pull off, but plums and berries look bruised.



Sleek Pink Spirit // Laura Mercier Heather Pink // Becca Wild Orchid


Warm pinks, like Laura Mercier Heather Pink or Shiseido PK304 Carnation, I can wear with impunity, provided no browntones are involved. Since they are yellow-pinks, they settle very naturally and easily onto my skin. Heather Pink has become the chosen one for its silky texture, white base, matte finish, and its readily depottable size (note the alcohol stains). But finding a cool pink that won't be neutralized by the yellow in my skin proves trickier. Raspberries and blue pinks, like Sleek Pink Spirit, simply turn ruddy, losing most of their cooler tones. Instead, I've relegated Pink Spirit into the role of a dark cool red, as it wears on my skin, when the desired effect is a wintry flush.

For a true cool pink, it's the secret hint of grey within the mauve-touched rose of Becca Wild Orchid (sadly discontinued) that best counteracts the warmth of my yellow undertone. Though it looks more muted than the others, the grey prevents that yellow-tone shift, so it stays cool-toned—in fact, the coolest of the three. It is my favoritest blush, ever.



Shiseido RD402 Orchid // Sleek Chantilly // RMS Smile


Peaches and corals harmonize well with the yellow undertone, provided they're clean, bright colors, without too much brown. A brighter coral like RMS Smile, tempered by the barest tendency towards pastel, looks more like very healthy skin than makeup, that mythical peaches-and-cream complexion. I generally like strong blush, so I do favor the higher contrast that pinks provide, but certainly a natural glow is useful from time to time, especially with warmer lipcolors. I don't need to make quite so many adjustments with warm-toned blushes, since warmth is very much the point, so even a tangerine like Sleek Chantilly works well as a more intense, powdery counterpart to Smile. I will likely upgrade to Burberry Blossom or Illamasqua Lover some day.

To finish off bronzer in a realistic manner, I find that a warm red like Shiseido RD402 Orchid closely mimics the ruddiness that accompanies my natural tan. On their own, red blushes look off, almost sunburnt. (I suspect it may be because I don't flush naturally.)



Shiseido WT905 High Beam White // Dior Aurora // Laura Mercier Soft Iris


Admittedly, I rarely reach for bronzer. Faking one convincingly requires more labor than I generally want to invest in my makeup. Plus, there's all that pesky brown: nude blushes resemble bronzer, while the majority of bronzers go glaringly orange—a very little goes a long way. If the brown base is relatively sheer, as in Dior Aurora, with plenty of peach for liveliness and the aforementioned Shiseido Orchid to keep the bronze from looking flat, the result is a fair approximation of a tan. I walk softly and carry a big brush, even so.

For me, highlighter plays a supplementary role. As much as I admire the satin sheen of Shiseido High Beam White for its subtlety, especially on the browbone, more often than not I skip that step.

With my flatter bone structure, the sheer amount of product required to effectively sculpt my face would be grotesquely heavy-handed. As such, I've never bothered with a dedicated contouring product. After watching Mary Greenwell deploy a nude blush to sculpt the cheekbone, however, I've been thinking that a nude blush, less brown than a traditional contour, might be used to similar effect. With a brighter blush on top, it's a softer way to create dimension along the cheekbone. For the moment, I have a couple of candidates on trial. Unfortunately, Armani #5 is too brown, too close to bronzer; the greyer mauve Soft Iris from Laura Mercier is more promising. We shall see.

Labels: beauty notes, becca, christian dior, giorgio armani, laura mercier, rms, shiseido, sleek
2/16/2013 [7]
The Makeup Artist: François Nars
by Dain
We all know the feeling. You're browsing through the counters, swatching idly, when, all of sudden, something very pretty, very shiny beckons. And there you are, yet another eyeshadow richer. "Daïn's got a new toy!" my family likes to say. My first such magpie moment: Rated R.

Versatile, Rated R is not. Without work, the bright colors overpower me, and after twelve years, the textures have become outdated. Still, I treasure it, and will always treasure it, the last remnant of a once massive NARS collection. Rated R is a memento—of the very first time I bought makeup simply because it was pretty—but it also serves as a reminder about embracing experimentation. "One of the best things about makeup is its impermanence. If a look is a success, you can work it into your wardrobe of makeup 'faces'. If not, you can just wipe it off and try something new. I try not to take makeup too seriously, and neither should you." (p. 13, Makeup Your Mind: Express Yourself). NARS duos presented a challenge, at a time when eyeshadow palettes were tame and predictably coordinated, in how to harmonize colors in more inventive ways. To this day, it still informs how I manipulate colors.

Like most fashion brands, the focus is on glamour, often in François Nars' idiosyncratic palette. If naturalism is about fine-tuning and restraint, to the point it disappears from view, glamour makeup is an escalation in intensity. Even when worked in neutrals, glamour makes a statement. You could call it empowering, you could call it unapologetic, you could even call it excessive—like all statements, 'glamour' is open to a multiplicity of interpretations—but from tightlining to a flick, it is perhaps more simply described as a subtle shift in self-perception.



With increased freedom, one might think that glamour makeup has no restraints, no thought process behind the decisions. But for all the difference in intent and style, glamour abides by the same cardinal rule of naturalism: good makeup respects the face. Like Mercier, his fellow Carita alumna, Nars' more extroverted style builds on the features unique to the individual. "All too often, too many makeup artists go off on their own ego trips... Instead, they're out to prove... their skills or to put what they presume is their unique stamp on a woman's face... The woman being made up is the most important person here. Not the makeup artist." (p. 7, Makeup Your Mind). Certainly, a flick has more attitude than tightlining, more of a presence, but what matters most is how well it suits Deva's eye shape. In all his looks, François Nars manages a very delicate balance between freedom and control. He is stylized, yet not at all conceptual. The look is not a concept; it is still a face.

"Observation is the key to learning how to apply makeup" (p. 13, ibid), François Nars is keen to emphasize. This visually oriented approach, in which the face is shown with and without makeup, is more instructive than a hundred maxims. When the face dictates, you learn to trust the judgement of your eyes.

However, my admiration is alloyed with criticism. There is room for improvement with textures; though originally decent, the competition has left NARS behind. Since its inception, NARS has successfully established itself as a mainstream brand. Unfortunately, with such a high proportion of iconic shades, there is great difficulty updating formulations—a consequence of notoriety, perhaps. It's a shame. François Nars' eye for color is very special, not easy to replicate. After a lull of several years, an absence of direct agency within the collections, I was happy to see inspiration return full force in recent collections, especially since NARS has such powerful nostalgia for me. It would be wonderful to see that excitement of color married to buttery, luxurious textures.

Labels: nars, the makeup artist
2/08/2013 [6]
Desert Island: My Ideal Bookshelf (Li Wen)
by Li Wen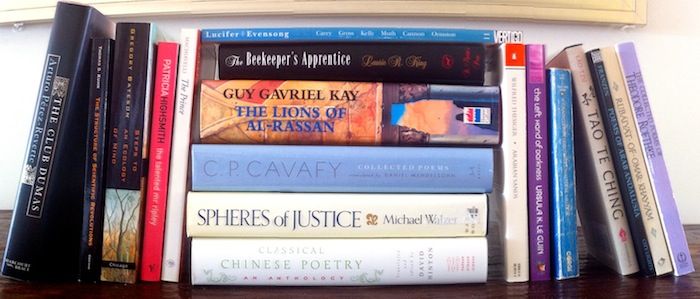 The earliest books I read in English were Mr. Men and Little Miss.* It was December 1992, and I had just moved from Shanghai to Sydney to live with my father. My command of English was basic; I had not yet started primary school. Every trip to the supermarket, I would pick up a couple of these plainly illustrated children's books at check-out (a dollar each), then cajole dad to read them aloud to me when we got home. Within a year, I'd graduated to Enid Blyton and C.S. Lewis; they were my window into how this Anglo society I was now living in functioned, my first measuring stick for the known world. I retain, to this day, a fondness for proper afternoon teas and sardines on toast.

Books are disarmingly like people**. Some are invaluable companions and guides. Others make you laugh, or feel less alone. Some books are charlatans, luring you in with false promises, only to try to fool you with lies and bad logic. Exposure to liars is useful, helping to develop reasoning and argumentation, but you don't want those liars near you for too long, even if they are popular. From those closest to you, you want to be moved. You want to be enlightened and challenged. You want to be surprised.

I went to an Anglican girls' school, where there was little room for history that wasn't the Reformation and the Tudor kings and queens, so the first time that I read The Lions of Al-Rassan, and learnt about Moorish Spain, it was like I had discovered a world that was previously unknown. Through the accounts of early 20th century European explorers who fell in love with Arabia (Freya Stark, Wilfred Thesiger), I too became smitten. I rebelled against Western-centric history and responded to my resentment over its brushing over of China by wanting to learn about the Others in their own words. Classical poetry - songs of the individual and the everyday - was one avenue.



Donna Quesada, Daoism (1/9)


I am not religious, or even remotely interested in mysticism in the conventional sense. The philosophical ideas of Daoism (or Taoism) came into my life when I was disillusioned with the binary thinking that characterised all the legal and political philosophy that I'd studied at university. All the while that my mind felt trapped and besieged, I was still thinking within a paradigm that didn't have the words to express my struggle, until I started to read Tao Te Ching and its commentaries. For a crash course on Daoism that doesn't reduce the philosophy to soft mysticism (as many comparative religion courses do in the West, I've discovered), I recommend Donna Quesada's lectures on the subject. Cybernetics (Gregory Bateson, Norbert Wiener) and systems theory (Ludwig von Bertalanffy, Varela and Maturana), interdisciplinary fields that constitute a post-Newtonian science, seemed to be logical progressions from that line of thought.

My interests are very broad, so I read from a lot of different subjects and genres. Romantic love and sex, and angst about the same, is a notable exception. It was in my late teens that I started to understand my own asexuality. Tom Ripley (as Highsmith wrote him, not as he was portrayed in the Minghella film), murderer and sociopath though he is, remains one of my literary heroes; the first character I came upon that I recognised, in sweet relief, that Yes, he is like me. Laurie R. King's heroine, in A Monstrous Regiment of Women, articulated another side of it: "For me, for always, the paramount organ of passion was the mind. Unnatural, unbalanced, perhaps, but it was true: Without intellect, there could be no love." My bookshelf is a microcosm of how I think and love.


Left: The Club Dumas,

Arturo Perez-Reverte;

The Structure of Scientific Revolutions,

Thomas S. Kuhn;

Steps to an Ecology of Mind,

Gregory Bateson;

The Talented Mr. Ripley,

Patricia Highsmith;

The Prince,

Niccolo Machiavelli


Centre: Lucifer, Mike Carey and Peter Gross; The Beekeeper's Apprentice, Laurie R. King; The Lions of Al-Rassan, Guy Gavriel Kay; Collected Poems of C. P. Cavafy, translated by Daniel Mendelsohn; Spheres of Justice, Michael Walzer; Classical Chinese Poetry: An Anthology, translated by David Hinton
Right: Arabian Sands

, Wilfred Thesiger;

The Left Hand of Darkness

, Ursula K. Le Guin;

A Canticle for Leibowitz

, Walter M. Miller Jr.;

Tao Te Ching

, translated by Stephen Addiss and Stanley Lombard;

Poems of Arab Andalusia

, translated by Cola Franzen;

The Rubaiyat of Omar Khayyam

, Edward Fitzgerald;

The Collected Poems of Theodore Roethke

*This series is based on My Ideal Bookshelf, edited by Thessaly La Force and illustrated by Jane Mount.
**And books should be treated as such. While I stand vehemently against censorship in principle, I maintain that there is a vast gulf between "having the right to say something" and "saying something that is right".

Labels: desert island, guy gavriel kay, laurie r. king, patricia highsmith
2/02/2013 [12]
Culture Notes: Sourcream Chocolate Chip & Walnut Coffeecake
by Dain
Closely adapted from Smitten Kitchen.

I don't have much of a sweet tooth, so I don't frequently bake. (I could eat french fries without end, however.) A cake needs to be particularly delicious to boast any kind of eternal return, as all recipes featured here are. There's something magical about those intensely sweet bites of chocolate chips and cinnamon sugar sandwiched between layers of tender sourcream batter. It is also possible, since it's a coffeecake, it's more toothsome because it's basically a snack, not accompanying a heavy meal. I've tweaked the original recipe to be less tooth-achingly sweet, halving the chocolate chips and replacing lost volume with chopped walnuts.


2 ⅓ cups all-purpose flour, sieved
1 tsp baking powder
1 ½ tsp baking soda
3/4 tsp salt
1 stick of unsalted butter, softened
1 cup sugar
3 large eggs, separated
1 ½ vanilla extract

⅔ cup cinnamon sugar
dark chocolate chips
chopped walnuts

Preheat oven to 350°. Sift together flour, baking powder, baking soda, and salt into a large bowl. In another bowl, cream butter with sugar, adding egg yolks and vanilla. Add flour mixture and sour cream, alternating, just a little at a time. Whisk egg whites till fluffy, fold into batter. Butter a 9' pan. Sprinkle the bottom of the pan with a fine layer of cinnamon sugar, which will caramelize in the most pleasing way as it bakes. Spread a half-inch layer of batter evenly in the pan. Dust cinnamon sugar on top, some chocolate chips, some walnuts. Add another layer of batter, as evenly as you can (or you'll get lopsided layers). Repeat with cinnamon sugar, chocolate chips, and walnuts. Once you've spooned on the final layer, dust the top with more cinnamon sugar.

Bake for about an hour, or until toothpick comes out clean. Good with strong black coffee, of course, which I like to serve in black teacups.

Labels: culture notes
1/31/2013 [0]
Beauty Notes: Wind Chill
by Dain
Though, more accurately, 'tis indoor heating at fault.



Hadalabo // LRP Toleriane Fluide // Avène Eluage, as eye cream // Trilogy Ultra Hydrating Cream


Very little has changed since I wrote up Desert Island: Skincare three years ago. Mainly, because of the obvious fact that experimenting with new products provokes sensitive skin—why I did not adopt this attitude earlier can only be attributed to a deficiency of common sense—but also because I'd settled. Even when I toyed with skincare frequently, it'd take a seismic shift to budge me from my staples, so I resolved not to try anything new unless I had used up something.

Trilogy Ultra Hydrating Face Cream is one such discovery. It is a thick, though not at all greasy, lavender-and-honey scented barrier cream—hands down, the best I've tried. As a stand-alone moisturizer, it's merely decent. Unlike most of Trilogy's moisturizers, which sink in almost immediately into the skin, the Ultra Hydrating was originally formulated as a mask, so it takes its time to absorb. If you layer moisturizers, as I do in winter, it creates a protective seal over hydration, the emulsion and softener combination of La Roche-Posay's Toleriane Fluide and Hadalabo, usually adding a second layer before bed. (There is not much to say about either of these two products: they are minimalist formulations designed to bypass sensitivities, with not much more weight than a serum on my skin type.) Best of all, the Trilogy Ultra Hydrating has broken me from my Tata Harper habit, at a mere $36 for 75ml rather than $150. I don't even need the addition of a face oil, it's just that effective, though I still use Dr. Alkaitis Nourishing Treatment Oil in summer when my skin is no longer dehydrated.
INGREDIENTS water, castor seed oil, ethylhexyl palmitate glceryl stearate, glycerin, cetearyl alcohol, manuka honey, rosehip seed oil, evening primrose oil, coconut oil, avocado oil, tocopheryl acetate, aloe vera, lavender oil, sodium stearoyl glutamate, parfum, phenoxyethanol, ethylhexylglycerin, geraniol, citronellol, limonene, linalool
Like much natural skincare, the Ultra Hydrating Cream is loaded with botanical extracts, i.e. potential irritants. I'd prefer if it were no-frills and unscented like the Toleriane Fluide and Hadalabo, but I've been fortunate. No reactions thus far. This three-part moisturizer has kept my skin very happy, almost as dewy as it looks in summer. Layering allows me to combine a high-functioning hydrator with a high-functioning barrier cream: the first two saturate my skin with moisture and humectants, the last seals it all in.

I've no dedicated eye cream—to be honest with you, I'm not entirely sure they do anything for me—but I use Avène Eluage now and again—though without much enthusiasm.

Labels: avene, beauty notes, hadalabo, la roche-posay, tata harper, trilogy
1/25/2013 [6]
Beauty Notes: Squeaky Clean
by Dain

The next time you find yourself at an HMart (or some comparable Asian market), check out the Korean-made toothbrushes. I'm quite serious; they are magic. The bristles are finer and softer than any toothbrushes I've found here, so they clean very efficiently between teeth, without tearing apart sensitive gums. I've actually seen a reduction in plaque. Mine are from O-Zone, about $7 for a pack of four, but I'm sure there are other brands just as good.

Labels: beauty notes
1/21/2013 [3]
Perfume Notes: Frédéric Malle Une Fleur de Cassie
by Dain

Salvador Dalí, The Temptation of St. Anthony (1946)


How do you approach an enigma? This is the quandary that confronts you with perfume: it cannot be quantified. Even with a glossary of aromaterials and cultural references at your disposal, even after its position in olfactory history has been defined, even if we all shared a common interpretation, the translation from the sense of smell to the audiovisual medium of language is an imperfect one. Not that this dampens our enthusiasm, not at all. There is great charm in unraveling a mystery. A perfume review sits somewhere in between anecdote, free association that dives into the chaos of personal experience, and ekphrasis, a cerebral deconstruction, like taking apart a watch to puzzle out its mechanism. We never comprehend the whole, and it does not matter.

A good perfume is strange and unfathomable. A poor one isn't so much repellent, as far too easily compassed, indistinguishable from a hundred others. The collective howl of rage against cheap mainstream fodder, however querulous to some ears, is grounded in genuine loss: when perfume loses its mystery, it is simply an odor.


Truth be told, I don't know how I feel about Une Fleur de Cassie. Don't get me wrong; my ambivalence means nothing. It is the only perfume I've ever bought after one sniff, without the intermediary of decants. Reactions to Une Fleur de Cassie, a perfume so complex it is better described in binaries, are sharply divided, and yet no one is ever likely to dismiss it as poorly made.

Ostensibly, it is a homage to a single raw material, the absolute of cassie, augmented by its close relation mimosa. There is a tendency in most compositions to tone down cassie's irregular features—buttery-rich pastry, damp paper, bitter almonds, sweaty flesh, fragrant balsams—rather like a face striking in its asymmetry. Ropion, by both harmonizing and exaggerating its quirks, manages a remarkable feat of engineering. Une Fleur de Cassie utilizes a decadent near-overdose of Acacia farnesiana, fully exposed in all its crude glory, but ever so delicately polished by its supporting notes: a tart, citrusy rose to brighten, violet and peachy aldehydes to emphasize the powdery tenderness, cinnamon set against the anisic tendencies, just the right measure of indolic jasmine and cumin for a lush erotic overtone, mushroomy cashmeran and sandalwood and hints of pepper to draw out the weird, harsh, bitter, damp smell of wood quickly returning to the earth.

As with any soliflore, Ropion has enhanced characteristics extant in the original essence, but it is anything but one-dimensional. Perhaps it is because the cassie is itself so odd, perhaps the materials selected by Ropion's discriminating hand have a modernizing touch. Une Fleur de Cassie most closely resembles L'Heure Bleue, a floriental (albeit based around heliotrope) in a very grand style. It is a study in contrasts: it holds the promise of both fruitfulness and decay.

And still, I cannot tell you how I feel about it. It evokes many thoughts and sensations, but also nameless things I cannot phrase because mystery is beyond expression. It is simply special.

OTHER REVIEWS
Bois de Jasmin
Scent Signals
Perfume Posse
Ayala Smelly Blog
Grain de Musc
Eiderdown Press
Mossy Loomings
Perfume Smellin' Things
Legerdenez
Basenotes
Makeupalley
Fragrantica


Labels: dominique ropion, frederic malle, nina simone, perfume notes, salvador dali
1/16/2013 [3]
Culture Notes: Computer Love
by Li Wen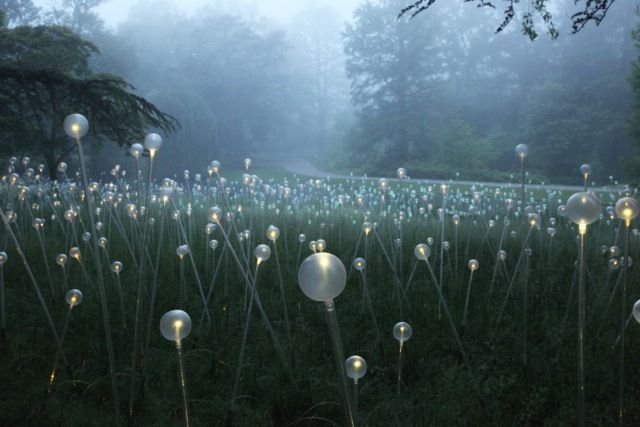 Light: Installations

by Bruce Munro at Longwood Gardens




Their name in German, Kraftwerk, means "power plant", and they are considered one of the most influential groups in modern music.

For the last four decades, they have been makers of Alltagsmusik ("everyday music"), dedicated to expressing the "quotidian landscape of a Mass Culture age" (Frieze Magazine). The style which they pioneered -- electronic music -- spawned techno, disco, house, synth pop, drum and bass, hip hop, and myriad genres: folk music of the man-machine world. The inescapable auditory patterns forming the soundtrack of our digital present. More than any other band, according to Tom Ewing at Pitchfork, "they...catch in music what interaction with machines really feels like -- sometimes glorious, sometimes lonely and frightening, occasionally very funny."

One of their most popular singles is "Computer Love" (Computer World, 1981):

another lonely night
stare at the tv screen
i don't know what to do
i need a rendezvous
A tender and wistful love song between a lonely protagonist and the computer which he is dependent upon for a "data date", this track about human longing at the organic/technical interface, with its completely synthesised instrumentation and 8 bit samples of consumer electronics, gets reinterpreted through the wood-and-resin prism of violin, viola and cello by the Balanescu Quartet in their 1992 album Possessed.




The Balanescu Quartet, "Computer Love" (Possessed, 1992)


Stripped of the alienation of synthesisers, the elegance and lyricism of the song become highlighted in the string quartet version, whilst retained are the achingly beautiful melodies, the precision of its staccato rhythms and the complex, layered counterpoint that characterises minimalism. The lively tonality of strings replace the gleaming warm/chilly alchemical textures of the original (surging, pounding, beeping, dissolving), coming at the same organic/robotic divide from a different angle. Then, as the song gradually progresses, harmonies shifting in and out of phase, twisting and transmuting in an endless web of connectivity, there is the undeniable joy of hearing a violin mimicking a slide down an electronic keyboard or the rapid bleeps and pings of a calculator.

Passion is still muted, the humour no less dry, but agitation and effort, more easily expressed on a stringed instrument, are an audible presence. A duet between singer and electronic keyboard in the Kraftwerk version, an exchange as much about intangible connection as it is about loneliness, loses some of its whimsicalness by becoming a pas de deux of violin and viola, the two voices no longer separated by a real/analog divide, but reflections of each other.

Yet even as this breach is overcome, the stirrings of desire are sharper, more desperate. Perhaps it is as simple as the fact that everything seems sadder on the violin, just as the simple sounds of the early decades of personalised computing cannot help but convey a sense of hope and naivety.


"It's like a drug to human ears. It can cure, it can crush. It can raise someone up, it can send one crumbling to the ground. A note to stir any hidden feeling in the core of our being."
- Laura Teodora Radulescu on YouTube, comment to the Balanescu Quartet's "Computer Love"

In fact, to my ears, by removing one reflecting glass (or perhaps by adding one) between the robotic and the real, the Balanescu Quartet's "Computer Love" is even more terrifying lovely than the original. It is easy to see how this music - with its catchy melodies, pristine and calming - could be adapted to more ominous effect; the moments that flutter and swoop like silvery birdsong, appropriated to set a soft, nostalgic gloss over every conceivable product of postmodern life: test-tube crops, a sparklingly efficient and impersonal train network, the mechanical slaughter of farm animals, a Sony notepad or digital TV.

"Trust me", it says, like the soothing, almost (but not quite) human female voices speaking corporate slogans on television ads. Eerie, but mesmerising. "You already know me. You can trust me."

Where the Kraftwerk original is about the experience of technology displacing real, tangible interaction in daily life, the Balanescu Quartet's cover of "Computer Love" seems to capture something more disturbing: how deeply and fundamentally radical technology is woven into the fabric of our daily experience, so that even as we sometimes feel a tingle of wrongness, of something being a little "off", we are often unable to see through to their ultimately foreign nature. And this subterfuge is not "natural", not empty of human purposefulness. The anthropomorphising is not spontaneously done at the user end.

The means of production, the way objects are designed and packaged and marketed, are not devoid of consideration. There is a human hand on the strings, a human mind that directs it. If Kraftwerk's message is: "Machines are doing this to Us", the message of the Balancescu Quartet's "Computer Love" is: "We are doing this to ourselves."

Labels: balanescu quartet, culture notes, kraftwerk
1/08/2013 [6]
Beauty Notes: Lipstick Page
by Dain

L to R: Nocturnal // Chelsea Rose // Fuschia // Strumpet // L'Heure Bleue // #48
RD178M // Rouge Passion // Poppy // Chamade // Smile


Next up in my stash overview (unmakeup covered here), my lipstick collection.

I buy only one shade from each brand—I'm peculiarly fussy about redundant packaging—so that it's easy to pick out the right color. (That I have two from Guerlain's Rouge Automatique range is a testament to how much I love both.) This is generally not an issue, because my lips desaturate, warm up, and enhance browntones in pigment to such an extent that I'm limited to a very specific color range: richer, cooler, clearer more opaque lipsticks that brighten my skin tone. (There are no lipglosses, for these reasons.) Bright midtones like RMS Smile and Estée Lauder Chelsea Rose (disc) wear like nudes (one pink, the other peach), whilst Hourglass Nocturnal, quite vampy on most, is a pitch-perfect rose, and the warm pink of Guerlain Chamade is my idea of a soft coral lip. So be warned, all my descriptions reflect how they look on, and will most likely register entirely different on you, as cool-toned lips are more commonly seen.

Dramatic colors always appeal to me, so I've got some hot pinks, and a vamp, too. There's blue-leaning Shiseido Fuschia, with its unusual white base, and the ruddier magenta of OCC Strumpet. They're great when I'm a little less sure of my eyeshadow; the aggression behind a hot pink makes the clashing colors seem deliberate. Though not quite as smooth as one wishes from a vamp, the berry undertone makes Make Up For Ever #48 the most wearable of vamps, less draining than shades too purple or too brown.

I'm fondest of reds, and, finding it nearly impossible to resist their siren song, I do my best to vary undertones and finishes. For a pure, classic cherry red, Sisley Rouge Passion takes no prisoners. If I want a vermilion, leaning slightly orange, there's Kanebo Poppy with its luscious, lacquer-like finish. It's great with bronzer and a summery palette. Because my lips do cancel out the blue in most lipsticks, I've got two berry-reds, the velvety, moodier Shu Uemura RD178M (disc) and L'Heure Bleue, made more festive with some sparkle. And, when a brown-based oxblood feels most appropriate, I've got YSL Grenat Satisfaction. It desaturates once it hits my lips, so it's not quite dark enough to be considered a true vamp, though by blotting and applying multiple layers I can approximate the depth in the tube.



I am not too picky about texture. My lips are dry and cracked all year round, so not even a creamy, high-silicone formulation will moisturize them (though they feel nice). Consequently, lip balm is a necessity, perhaps as important as the lipsticks themselves. My favorite lip balm, Dr. Hauschka Lip Care Stick, is expensive for a constant repurchase, but it is extremely kind to my lips, even when they are sore. I love the oddly herbaceous rose fragrance, too. A generous layer of pure lanolin, sometimes layered over eye cream, works best as a heavy-duty overnight treatment. For daytime, I like Avene Cold Cream Lip Cream, for reasons unknown not available in the US. Though not so protective, it's lightweight and absorbs well, ideal as prep for lipstick application (I never wear them without balm). It also doubles as a cuticle cream in my purse.



Also designed for travel, I depot my favorite colors into a slim Japonesque palette. I do prefer to apply straight from the bullet, but I can't argue with convenience.

Labels: avene, beauty notes, dr. hauschka, estee lauder, guerlain, hourglass, japonesque, kanebo, lansinoh, make up for ever, obsessive compulsive cosmetics, rms, shiseido, shu uemura, sisley, yves saint laurent
12/31/2012 [7]
Beauty Notes: Shutter Speed
by Dain
"What camera do you use?" This may be, to my mind, the oddest request I get; my photographs are merely passable. The short answer: Samsung VLUU PL50, a fairly standard point-and-shoot that's outdated by some years.



Extreme asymmetry and my winter palette: rosy lips and cheeks, metallic eyeliner.


Though there's a noticeable improvement in quality if you invest in a DSLR, for me a good photograph depends less on the camera itself; other factors, such as lighting and composition, come first. I prefer indirect morning light, less yellow than full sun and no harsh shadows, taking the time to position the elements of the still life into an arresting composition. Photography is no different than painting: just as eye contact will add visual impact to a portrait, composition will add strength to a still life. I take a few shots, playing with different angles. My camera is set to macro, no flash, usually with self-adjusting white balance.

For a background, I use plain white paper. Later, in post, when I brighten (curves) and white-balance, it's generally a useful guide. My photographs rarely boast pure-white clarity, but I reason it's better to have a greyish background than an oversaturated, overbrightened image. (In fact, I just barely desaturate.)

That's all there is to it.
12/25/2012 [3]
Fashion Notes: Native Textiles
by Li Wen
As the birthplace of the China's modern textiles industry, the originating port of Chinese silks to the outside world, Shanghai has the reputation of being the country's fashion capital (barring Hong Kong, whose return from British rule belongs to recent memory).

So it is ironic that for decades in the latter half of the 20th century, Shanghai was reduced to low-cost processing for international clothing and footwear brands. Its tailors flocked overseas, many to HK, finding little native market for their handiwork during the austere years of the Cultural Revolution. Its mills and factories turned out workmanlike, unflattering garments indistinguishable from one another by the container-full.

Taste languished. And I fear, discernment, too. It was a sad, sad time for lovers of fashion.

But no more, it seems.

Whereas a mere decade ago, my parents and I would be hard pressed to find anything to wear in Shanghai that was both to our taste and not from a foreign brand, I have been delighted to discover in the last few years an increasing number of exciting, locally designed fashion labels.

Here are my top three favourite Chinese boutique brands, all of which combine beautiful natural fabrics with elegance, comfort, and youthfulness.




* * *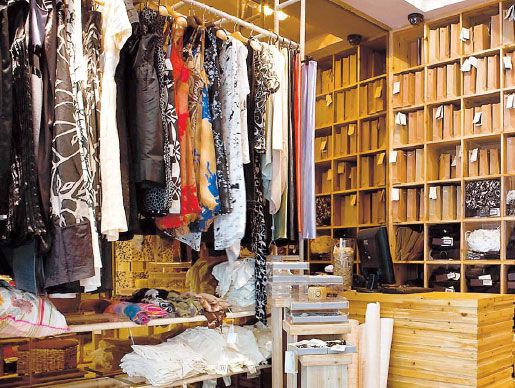 Aesthetic: casual staples with Chinese influenced detailing
Features: ethical business model, focus on natural and sustainable materials
Fabrics: cotton, modal, silk, bamboo, wool, cashmere
Personal favourites: silk blouses, cashmere jumpers, maxi dresses
NuoMi is currently having its
holiday sale
, with clothing up to 50% off. So if you happen to be in Shanghai, think about checking it out at Xinle Lu, Biyun Lu, Wujiang Lu or Changning Lu.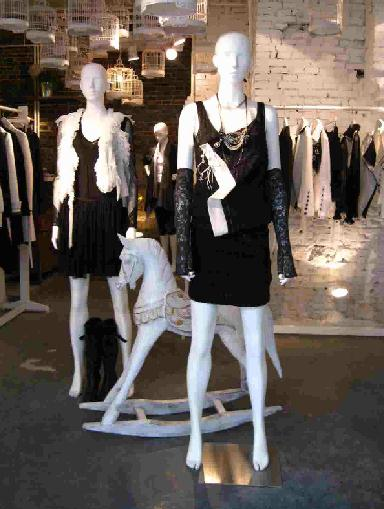 Aesthetic: monochromatic urban chic, Balmain meets Haider Ackermann
Features: draping and layering, unconventional and asymmetric cuts
Fabrics: silk, cotton, lots and lots of wool
Personal favourites: extremely well-tailored trousers, fitted silk dresses, long-sleeved tops for layering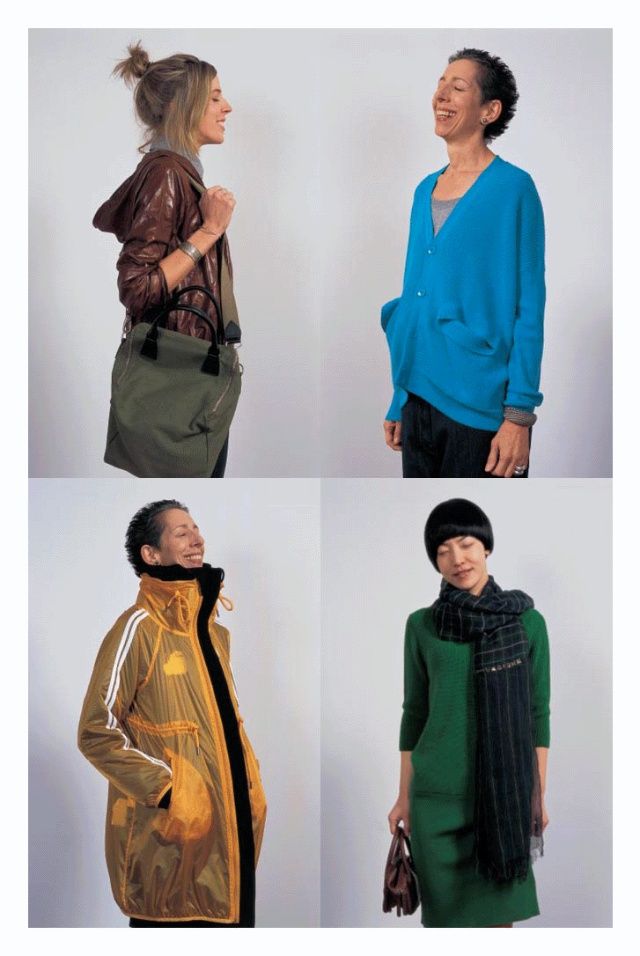 Features: bright primary and secondary colours; fun, graphic prints
Fabrics: wool, camel, organic cotton, silk
Personal favourites: colourful winter coats, sportswear-inspired dresses
Noteworthy mention:
Silk King
, which carries on Shanghai's tradition of silk and garment trade. Its branches are ubiquitous across Shanghai, but I especially recommend its multi-story flagship store on Nanjing Road, which offers the widest range of products - including fabrics, bedding, scarves, readymade and tailored clothing, sleepwear, etc. - and the best service.
Labels: fashion notes, jade en plus, nuomi shanghai, shanghai, silk king, zuczug
12/21/2012 [4]
Subscribe to
Posts [Atom]. Or
follow on bloglovin'. If
you'd like to contact Dain,
feel free to email me.
I'm also on Pinterest.
Features

The Mnemonic Sense
Most Wanted
The Beauty Primer
Lookbook
Bestsellers
Consumer Diaries
Closet Confidential
On The Label
Beauty Notebook
The Hit List
Color Me In
The Makeup Artist
Wedding Bells
Globe Trotter
Desert Island
perfume notes
beauty notes
fashion notes
culture notes
minimalism
chypre arc
floral arc
fresh arc
masculines arc
gourmands
& orientals arc
Archives

August 2008
September 2008
October 2008
November 2008
December 2008
January 2009
February 2009
March 2009
April 2009
May 2009
June 2009
July 2009
August 2009
September 2009
October 2009
November 2009
December 2009
January 2010
February 2010
March 2010
April 2010
May 2010
June 2010
August 2010
September 2010
October 2010
November 2010
December 2010
January 2011
February 2011
March 2011
April 2011
May 2011
June 2011
July 2011
August 2011
September 2011
October 2011
November 2011
December 2011
January 2012
February 2012
April 2012
May 2012
June 2012
July 2012
August 2012
September 2012
October 2012
November 2012
December 2012
January 2013
February 2013
March 2013
June 2013
July 2013
Images

Photobucket